Smile Makeover in Marbella
& how to avoid a fake Marbella Smile Makeover disaster!
How We Create Stunning, Natural Smiles in Marbella
Urgencias Dentales en Marbella
Dolor de dientes en Marbella
Bienvenido a la Clínica Dental R&H, su destino para emergencias dentales en Marbella. Entendemos que las emergencias dentales pueden golpear de forma inesperada y causar molestias inmensas. Nuestro experimentado equipo está aquí para proporcionar atención inmediata y compasiva, asegurando que usted reciba el mejor tratamiento para sus necesidades dentales urgentes.
En la Clínica Dental R&H, ofrecemos una amplia gama de servicios dentales de urgencia para tratar diversos problemas dentales, entre ellos:
1
Dolores de muelas en Marbella
Si tiene dolor de muelas en Marbella, ¡no espere! Póngase en contacto con nuestro equipo dental de urgencias inmediatamente para una rápida evaluación y alivio del dolor.
2
Reparación de dientes rotos
Los accidentes pueden ocurrir en cualquier momento y provocar fracturas dentales. Nuestros dentistas expertos pueden reparar rápidamente y restaurar sus dientes rotos a su función y estética naturales.
Las infecciones dentales pueden agravarse rápidamente y provocar dolor y molestias graves. Nuestro equipo está especializado en la gestión y el tratamiento de infecciones dentales agudas para evitar complicaciones posteriores.
4
Pérdida de empastes o coronas
Perder un empaste dental o una corona puede ser preocupante. Nuestra atención dental de emergencia incluye la reconstrucción o sustitución de restauraciones dentales perdidas para proteger sus dientes de daños mayores.
5
Traumatismos y lesiones dentales
Las lesiones dentales provocadas por accidentes requieren atención inmediata. Nuestros dentistas experimentados están equipados para tratar los traumatismos dentales y salvar los dientes dañados.
Por qué elegir la Clínica Dental R&H para urgencias dentales en Marbella?
1
Dentista de urgencias con experiencia
Nuestro equipo de dentistas altamente cualificados tiene una amplia experiencia en el tratamiento de urgencias dentales, lo que garantiza que usted reciba una atención de primera categoría.
Utilizamos tecnología dental avanzada para diagnosticar y tratar con precisión las urgencias dentales, mejorando la eficacia de nuestros tratamientos.
3
Cuidados compasivos y de apoyo
Entendemos la ansiedad y el miedo que las emergencias dentales pueden causar. Nuestro equipo se esfuerza por proporcionar un ambiente tranquilo y de apoyo a lo largo de su visita.
4
Bien situado en Marbella
Nuestra clínica dental está situada en el centro de Marbella, por lo que es de fácil acceso para todos los residentes que necesitan atención dental de emergencia.
Communication in clear English
The challenge of aesthetic dentistry is trying to decipher the mental-image a patient has in their mind of what they want to achieve, namely, their 'aspirational identity'. The skill of a good aesthetic dentist is therefore to act as a translator - to take what is essentially a mental image, and bring that to physical reality. Many dentists fail here because a mental image has to be conveyed by words, and words are incredibly open to interpretation, and a lot can get lost in translation, between what the patient is saying, and what the dentist understands. This is where Dr. Hami excels as a master communicator, and given the caliber of our dental clinic, we attract some of the most aesthetically demanding patients in Marbella, and having arisen to this challenge for almost a decade, we have refined our process and can consistently deliver excellence.
Designing a smile must always begin by considering a patients face. What are its proportions? How much teeth are shown when smiling? What attractive features of the face do we want to bring further attention to? What less attractive features do we want to compensate for with an intelligently planned design?
Here are just a few examples of smile design decisions we make following our facial analysis:
If the nose and lips of a patient are attractive we want to draw the eye to these areas by perhaps making the central top front teeth a little more prominent, as teeth are the most reflective surfaces on the face.

If while talking the patient doesn't show enough teeth, then by elongating the front teeth, we can instantly make the smile look more youthful.

If the patients smile looks very worn, or the edges seem too square, this can sometimes make a smile look a little old and 'aggressive', which may not match a patients 'warm' personality, and so curving the edges of the front teeth can make them more 'welcoming', and creating a bigger step between their central and lateral incisors can make their smile look much younger, as we are all born with this larger step, but it is gradually lost as we age due to tooth wear etc...
Many of these concepts are much more easily understood during our in-person consultation. During this appointment Dr. Hami will take high-definition photos of your face and teeth, and carry out a detailed analysis of your facial and dental features, and propose a plan that can give you a stunning, yet natural smile.
2
Creation of Wax Up Design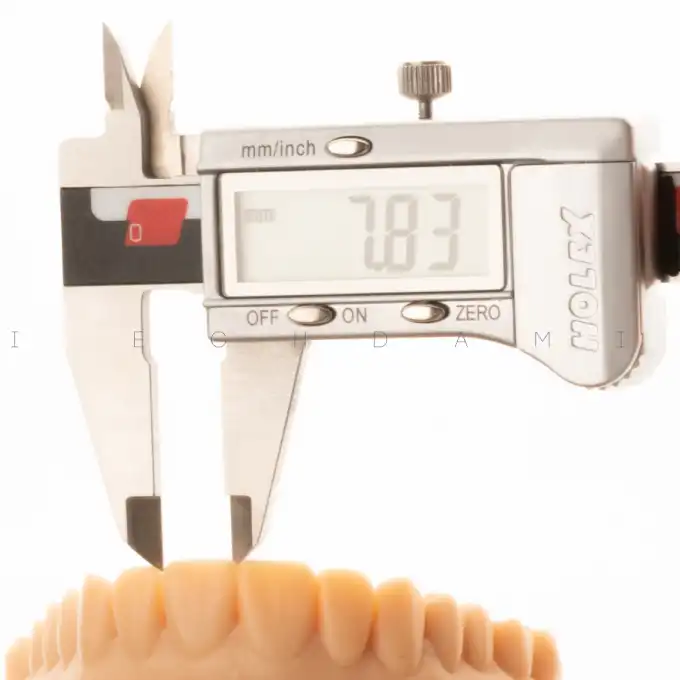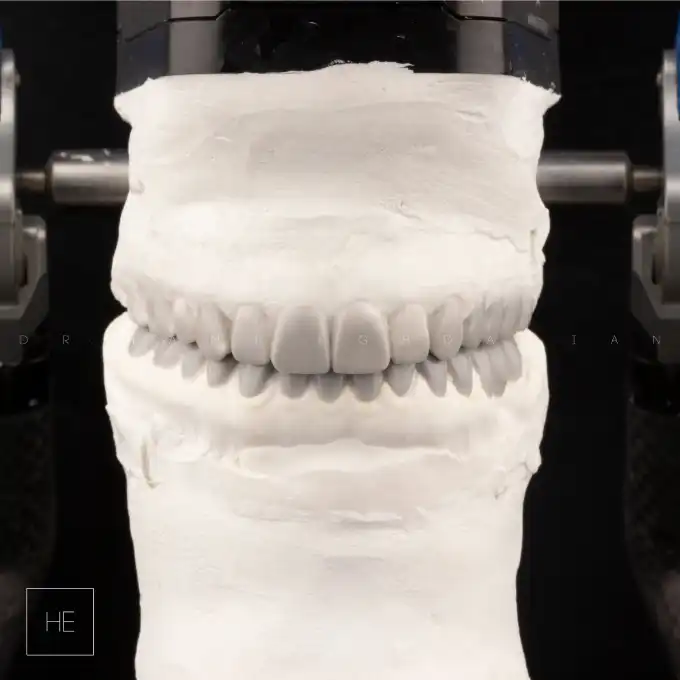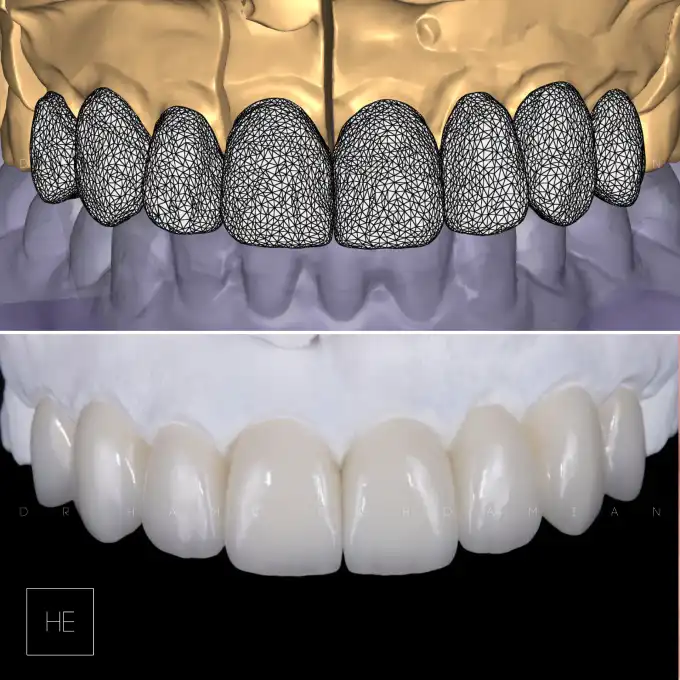 Facial & Dental Photography in a Professional Photography Studio followed by an in-depth analysis by Dr. Hami
Digital Smile Design & 3D Modelling
Once an in-depth analysis has been made it is time to actually design the size, shape and positioning of every individual tooth, and make sure it works together harmoniously. This is done either by Digital Smile Design using just photos, or Dr. Hami adding removable material to your teeth directly, taking photos of these changes, and asking a lab to send us your physical mock up and trying this in your mouth (see below). Every case is different. For some merely just visualising a 2D image of the before and after of their smile gives them the confidence to proceed with the process, while others may need to actually see the design physically in their mouth, to see it from all angles, and to test how they talk with the new teeth, and how their lips adapt around the new smile. During your consultation together we will together determine what the best method is for you to get a vision of your new smile, prior to beginning the treatment.
3
Try-in of the wax up in the mouth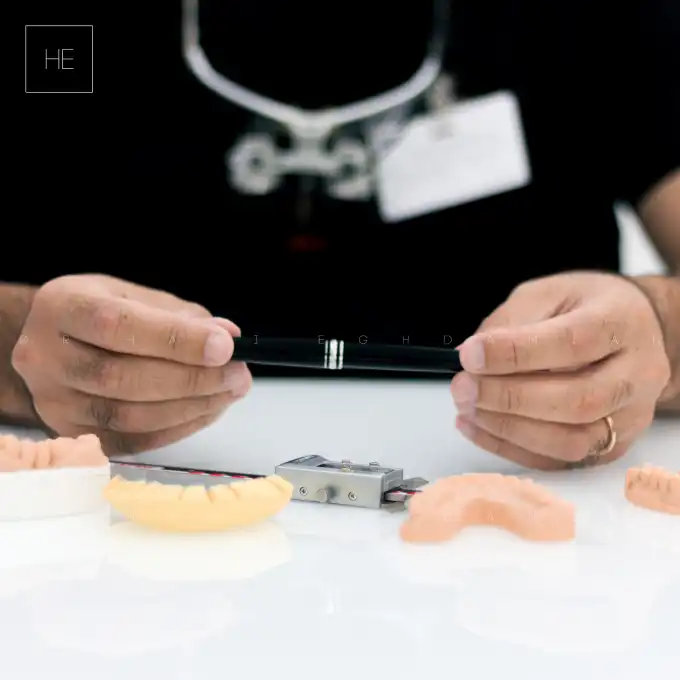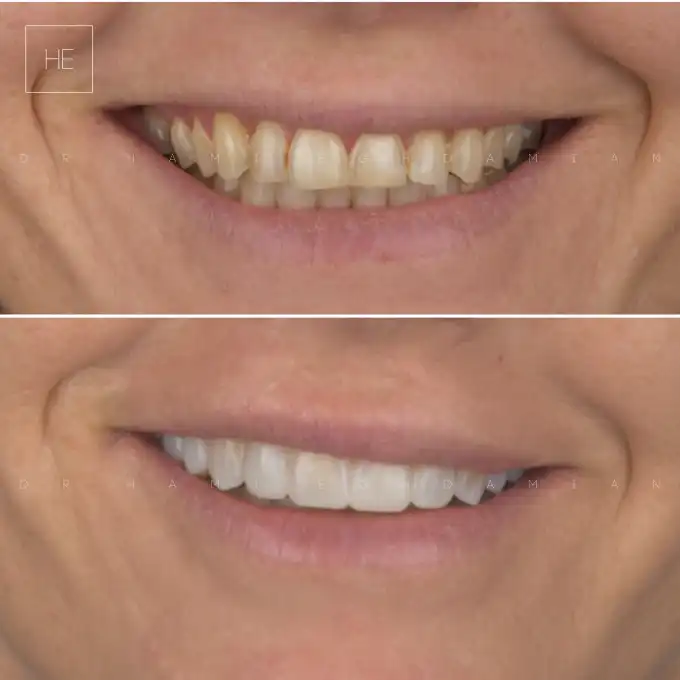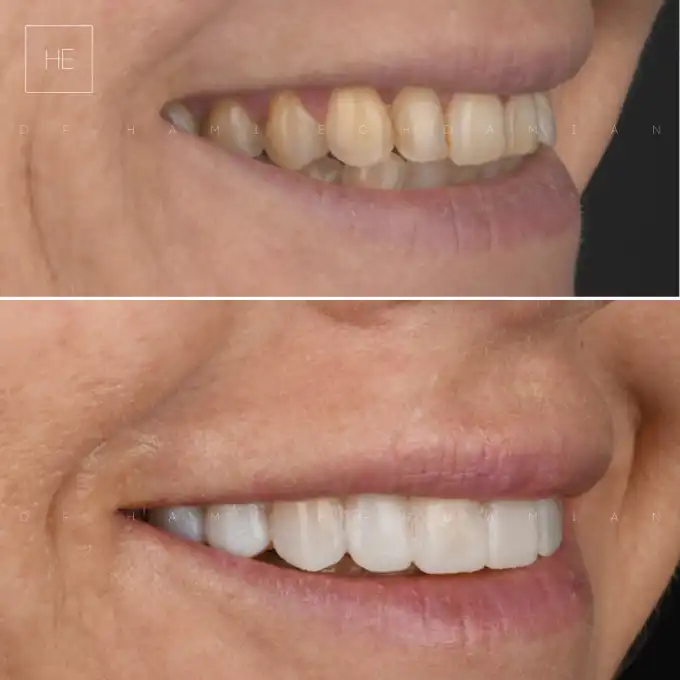 You can visualise the rough design in your mouth prior to beginning the case
Once we have a design proposal, it is important we test drive this in your mouth physically. Here we can assess if the design is harmonious with your face, and identify any details which need slight modification prior to beginning the work. We'll assess your smile, and how much teeth you show when talking and 'at rest' (i.e. when your muscles are relaxed, where typically you must show between 1-3mm of tooth tissue). You can even choose to go home with the mock up in your mouth to show your family and friends, and for your eye to get accustomed to your new smile. The mock up also allows us to make sure you speech is not affected, and for certain cases where we are making big changes, it is important to make sure you won't have a lisp or difficulty pronouncing certain words etc. We can add or remove material to the mock up in your mouth to tweak the design, and in some cases we even order from the lab different design versions, and try the different smile varieties in your mouth, and you can choose your favourite. This decision doesn't have to be made in 24 hours of course, as we'll take lots of photos of the different designs in your mouth, and you can take all the time you need to grow to love your new smile, and when you are ready only then we'll get started with the actual procedure.
On the day we actually begin the procedure, and have minimally shaped your teeth, you will leave home with the new design in your mouth as provisional veneers while we wait the 1-2 weeks the lab needs to make the final porcelain veneers. The trial smile is a plastic version of the final outcome, and although it is not an exact replica of the final shape, it is very close in proportion, and allows your eye to further get used to your new smile. This gives you the opportunity to provide further feedback about your final design, and sometimes the day following your procedure, Dr. Hami will sit down with you and assess how the provisional veneers look and feel, when you are no longer numb, and have had a little more time to grow more accustomed to them. Although usually most design decisions have already been made during the mock up phase, and most patients are completely happy with their final design, others may choose to ask the lab for minor changes, and we still have the luxury to do this, if needed
4
Prep Uppers, Bond Uppers. Prep Lowers, Bond Lowers
What makes our porcelain veneers in Marbella so spectacular yet, natural-looking?
Finally the key to get an amazing aesthetic outcome is hugely dependent on the skill and caliber of the lab. Part of the secret of not getting fake, bland-looking teeth, is to mimic the internal anatomy of a natural tooth. This is achieved first and foremost by working with a master ceramist (some with more than 35 years of experience), and secondly in employing a technique called 'cut-back', which is where a very strong eMax core that is milled by a computer to fit the underlying tooth structure perfectly, is then 'cut-back' and hand-layered with translucent ceramic so that light can pass through the tooth to a similar degree as seen in natural teeth.

Contacte con nosotros para urgencias dentales Marbella
Si se enfrenta a una emergencia dental en Marbella o tiene un dolor de muelas que requiere atención inmediata, no dude en llamar a la Clínica Dental R&H al **+34952814444**. Nuestro equipo está listo para proporcionar una atención rápida y aliviar su dolor dental.
Preguntas frecuentes sobre urgencias dentales en Marbella
¿Qué son las Emergencias Dentales en Marbella y cómo puedo reconocerlas?
Las Emergencias Dentales en Marbella son problemas orales repentinos y graves que requieren atención inmediata. Los signos comunes incluyen un dolor de dientes intenso, sangrado, hinchazón o un diente roto.
¿Ofrecen servicios de atención dental de emergencia para las Emergencias Dentales en Marbella?
Sí, nuestra clínica dental en Marbella ofrece servicios de atención dental de emergencia. Estamos aquí para abordar sus necesidades dentales urgentes de manera oportuna.
¿Qué debo hacer si experimento una Emergencia Dental en Marbella fuera del horario de oficina regular?
Si tiene una emergencia dental en Marbella fuera del horario regular, comuníquese con nuestra línea de emergencia dental o visite el centro de atención dental de emergencia más cercano.
¿Las Emergencias Dentales en Marbella suelen ser dolorosas?
Las emergencias dentales pueden ser dolorosas, pero no todas lo son intensamente. Algunas emergencias, como una obturación o corona perdida, pueden no causar dolor inmediato, pero aún así requieren atención pronta.
¿Pueden proporcionar orientación sobre qué hacer en casa para las Emergencias Dentales en Marbella antes de ver a un dentista?
Para alivio temporal, enjuague su boca con agua tibia y sal, use hilo dental para eliminar los residuos y aplique una compresa fría en caso de hinchazón. Sin embargo, es esencial consultar a un dentista lo antes posible.
¿Qué constituye una emergencia dental y cuándo debo buscar atención inmediata en Marbella?
Las emergencias dentales en Marbella incluyen dientes desprendidos, sangrado intenso, dolor severo, abscesos dentales y mandíbulas rotas. Busque atención inmediata si experimenta alguno de estos síntomas.
¿Puedo esperar unos días para ver a un dentista por una emergencia dental en Marbella o debo ir de inmediato?
La urgencia de una emergencia dental varía. Para algunos problemas, la atención inmediata es crucial, mientras que otros pueden esperar un día o dos. Comuníquese con un dentista para obtener orientación según su situación específica.
¿Las emergencias dentales están cubiertas por el seguro en Marbella?
La cobertura de emergencias dentales puede depender de su plan de seguro. Es importante consultar con su proveedor para comprender su cobertura para la atención dental de emergencia en Marbella.
¿Qué sucede si ignoro una Emergencia Dental en Marbella y retraso el tratamiento?
Ignorar una emergencia dental puede conducir a complicaciones más graves, más dolor y costos de tratamiento más altos. Siempre es mejor buscar atención de manera oportuna.
¿Cómo puedo ponerme en contacto con su clínica para Emergencias Dentales en Marbella?
Para ponerse en contacto con nuestra clínica para Emergencias Dentales en Marbella, llame a nuestra línea de emergencia dental o visite nuestro sitio web para obtener información de contacto de emergencia. Nuestro equipo está listo para ayudarlo de inmediato.
Reservar Cita Urgencias Dentales Marbella