Smile Makeover in Marbella
& how to avoid a fake Marbella Smile Makeover disaster!
How We Create Stunning, Natural Smiles in Marbella
What's the Marbella smile makeover process?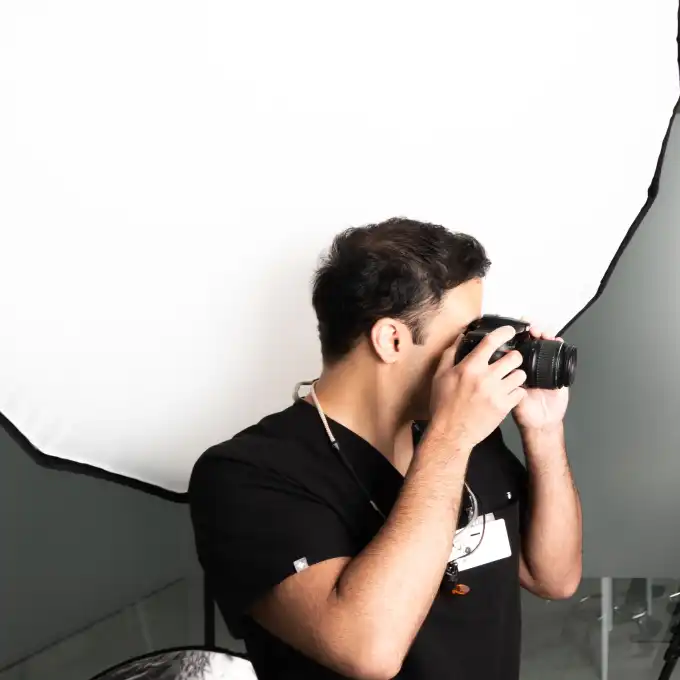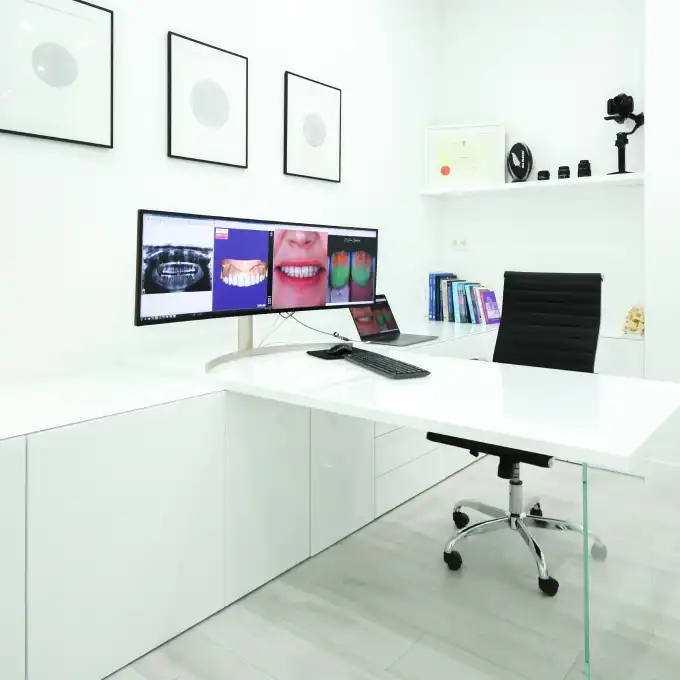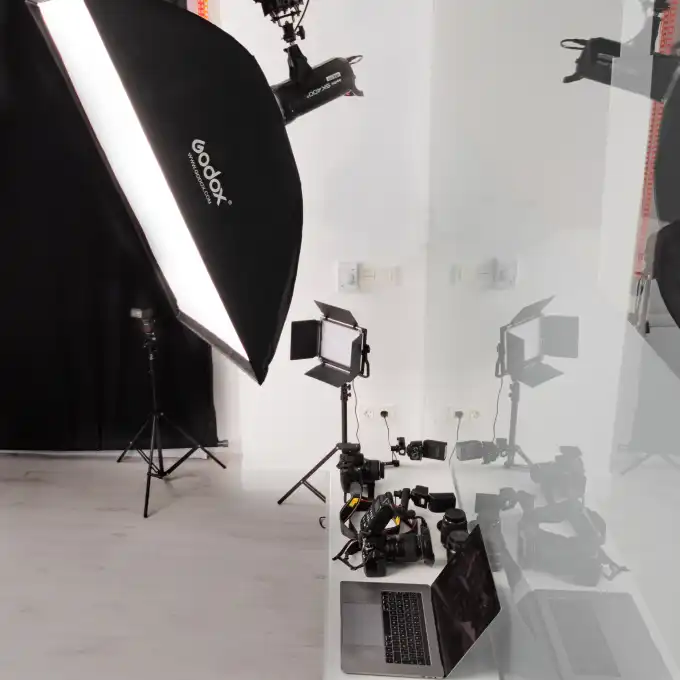 Facial & Dental Photography in a Professional Photography Studio followed by an in-depth analysis by Dr. Hami
Communication in clear English
The challenge of aesthetic dentistry is trying to decipher the mental-image a patient has in their mind of what they want to achieve, namely, their 'aspirational identity'. The skill of a good aesthetic dentist is therefore to act as a translator - to take what is essentially a mental image, and bring that to physical reality. Many dentists fail here because a mental image has to be conveyed by words, and words are incredibly open to interpretation, and a lot can get lost in translation, between what the patient is saying, and what the dentist understands. This is where Dr. Hami excels as a master communicator, and given the caliber of our dental clinic, we attract some of the most aesthetically demanding patients in Marbella, and having arisen to this challenge for almost a decade, we have refined our process and can consistently deliver excellence.
Designing a smile must always begin by considering a patients face. What are its proportions? How much teeth are shown when smiling? What attractive features of the face do we want to bring further attention to? What less attractive features do we want to compensate for with an intelligently planned design?
Here are just a few examples of smile design decisions we make following our facial analysis:
If the nose and lips of a patient are attractive we want to draw the eye to these areas by perhaps making the central top front teeth a little more prominent, as teeth are the most reflective surfaces on the face.

If while talking the patient doesn't show enough teeth, then by elongating the front teeth, we can instantly make the smile look more youthful.

If the patients smile looks very worn, or the edges seem too square, this can sometimes make a smile look a little old and 'aggressive', which may not match a patients 'warm' personality, and so curving the edges of the front teeth can make them more 'welcoming', and creating a bigger step between their central and lateral incisors can make their smile look much younger, as we are all born with this larger step, but it is gradually lost as we age due to tooth wear etc...
Many of these concepts are much more easily understood during our in-person consultation. During this appointment Dr. Hami will take high-definition photos of your face and teeth, and carry out a detailed analysis of your facial and dental features, and propose a plan that can give you a stunning, yet natural smile.
2
Creation of Wax Up Design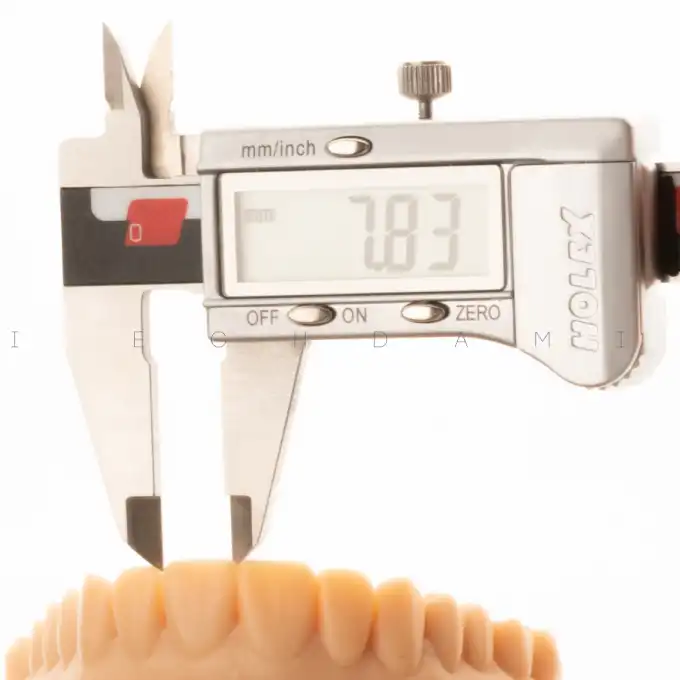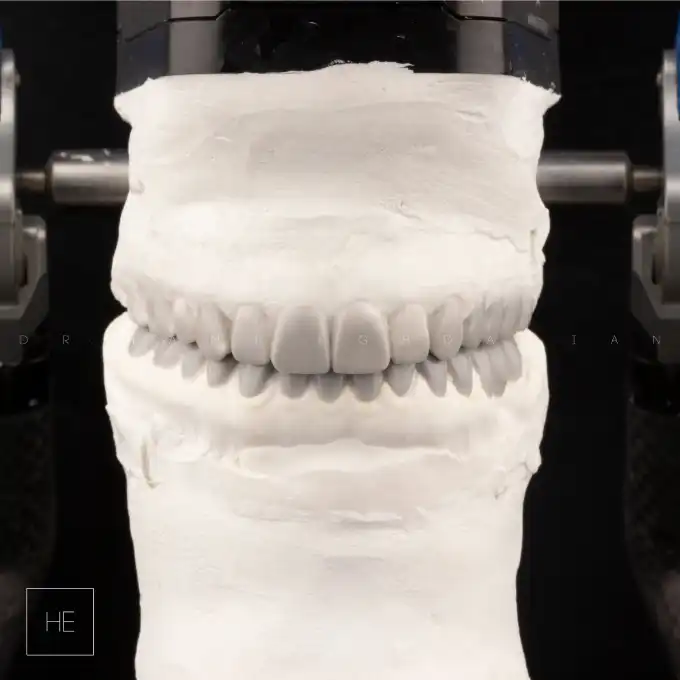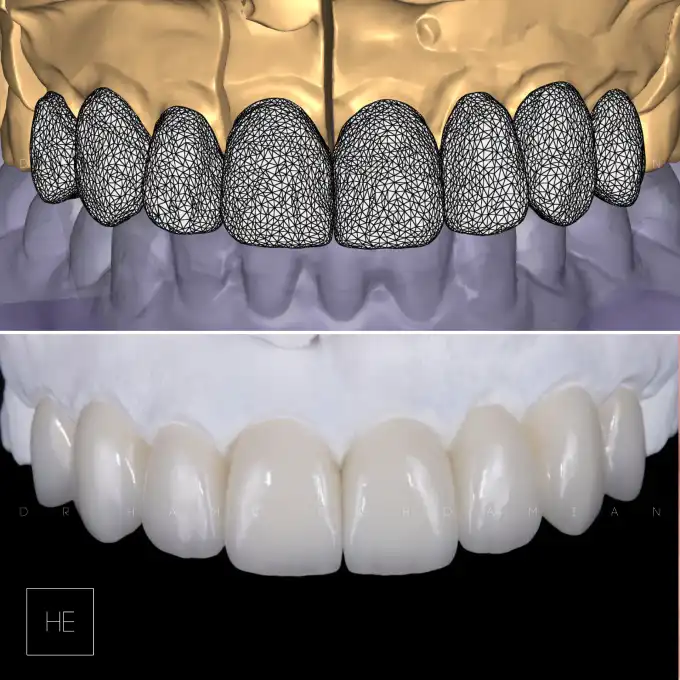 Facial & Dental Photography in a Professional Photography Studio followed by an in-depth analysis by Dr. Hami
Digital Smile Design & 3D Modelling
Once an in-depth analysis has been made it is time to actually design the size, shape and positioning of every individual tooth, and make sure it works together harmoniously. This is done either by Digital Smile Design using just photos, or Dr. Hami adding removable material to your teeth directly, taking photos of these changes, and asking a lab to send us your physical mock up and trying this in your mouth (see below). Every case is different. For some merely just visualising a 2D image of the before and after of their smile gives them the confidence to proceed with the process, while others may need to actually see the design physically in their mouth, to see it from all angles, and to test how they talk with the new teeth, and how their lips adapt around the new smile. During your consultation together we will together determine what the best method is for you to get a vision of your new smile, prior to beginning the treatment.
3
Try-in of the wax up in the mouth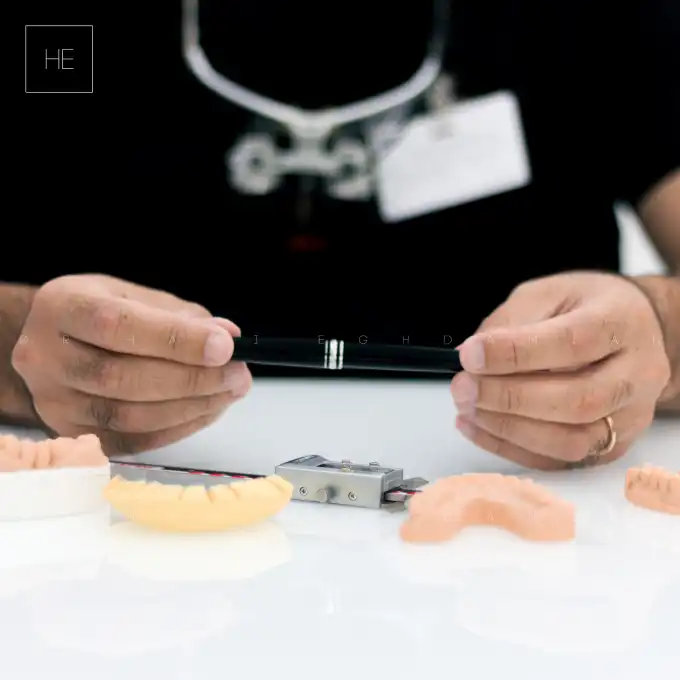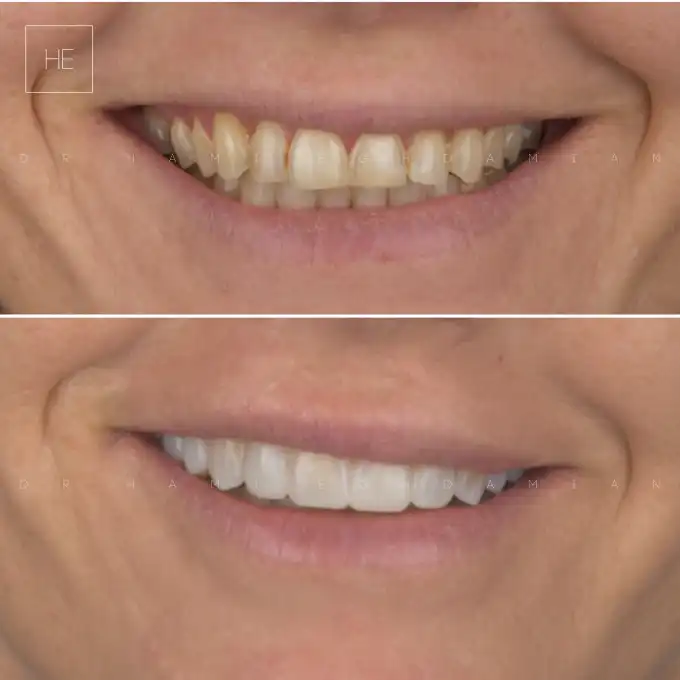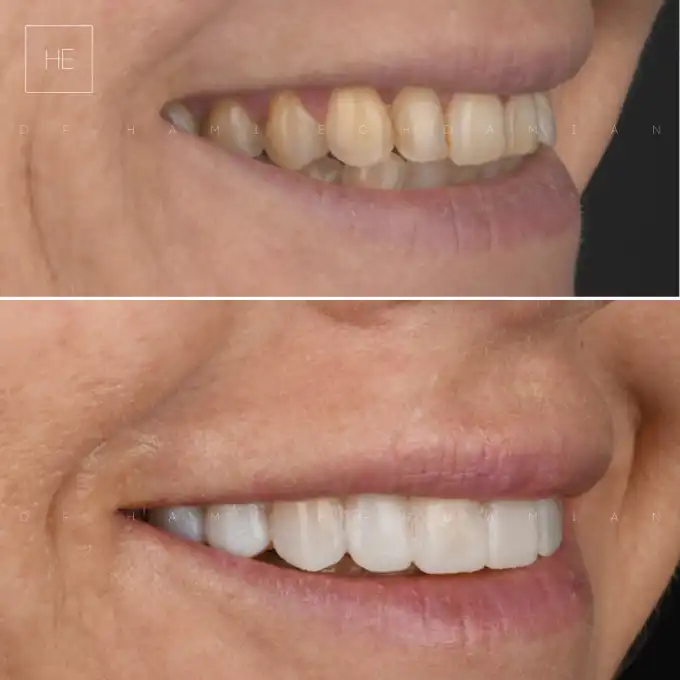 You can visualise the rough design in your mouth prior to beginning the case
Once we have a design proposal, it is important we test drive this in your mouth physically. Here we can assess if the design is harmonious with your face, and identify any details which need slight modification prior to beginning the work. We'll assess your smile, and how much teeth you show when talking and 'at rest' (i.e. when your muscles are relaxed, where typically you must show between 1-3mm of tooth tissue). You can even choose to go home with the mock up in your mouth to show your family and friends, and for your eye to get accustomed to your new smile. The mock up also allows us to make sure you speech is not affected, and for certain cases where we are making big changes, it is important to make sure you won't have a lisp or difficulty pronouncing certain words etc. We can add or remove material to the mock up in your mouth to tweak the design, and in some cases we even order from the lab different design versions, and try the different smile varieties in your mouth, and you can choose your favourite. This decision doesn't have to be made in 24 hours of course, as we'll take lots of photos of the different designs in your mouth, and you can take all the time you need to grow to love your new smile, and when you are ready only then we'll get started with the actual procedure.
On the day we actually begin the procedure, and have minimally shaped your teeth, you will leave home with the new design in your mouth as provisional veneers while we wait the 1-2 weeks the lab needs to make the final porcelain veneers. The trial smile is a plastic version of the final outcome, and although it is not an exact replica of the final shape, it is very close in proportion, and allows your eye to further get used to your new smile. This gives you the opportunity to provide further feedback about your final design, and sometimes the day following your procedure, Dr. Hami will sit down with you and assess how the provisional veneers look and feel, when you are no longer numb, and have had a little more time to grow more accustomed to them. Although usually most design decisions have already been made during the mock up phase, and most patients are completely happy with their final design, others may choose to ask the lab for minor changes, and we still have the luxury to do this, if needed
4
Prep Uppers, Bond Uppers. Prep Lowers, Bond Lowers
What makes our porcelain veneers in Marbella so spectacular yet, natural-looking?
Finally the key to get an amazing aesthetic outcome is hugely dependent on the skill and caliber of the lab. Part of the secret of not getting fake, bland-looking teeth, is to mimic the internal anatomy of a natural tooth. This is achieved first and foremost by working with a master ceramist (some with more than 35 years of experience), and secondly in employing a technique called 'cut-back', which is where a very strong eMax core that is milled by a computer to fit the underlying tooth structure perfectly, is then 'cut-back' and hand-layered with translucent ceramic so that light can pass through the tooth to a similar degree as seen in natural teeth.
Our Marbella's Smile Makeover
Frequently Asked Questions About Smile Makeovers in Marbella
What's the goal of a smile makeover at your Marbella Dental Clinic?
Our clinic specializes in smile makeovers, which are personalized cosmetic dentistry treatments designed to help you achieve the smile you desire.
How can I find the best cosmetic dental services near me in Marbella?
To discover top-notch cosmetic dentistry in your area, simply contact our clinic. We offer a wide range of procedures, including smile makeovers, to address your unique needs.
Which treatments are available for enhancing my smile during a makeover at your clinic?
Our clinic provides a comprehensive array of cosmetic dentistry options, including teeth whitening, veneers, dental implants, and more, all designed to improve your smile's aesthetics during a makeover.
What's the typical duration of a smile makeover treatment plan?
The duration of a smile makeover varies based on individual needs and the specific treatments involved. During your initial consultation, we'll provide a timeline tailored to your case.
Are there before-and-after photos of patients who have undergone smile makeovers I can view to see potential outcomes?
Yes, we have a collection of before-and-after photos showcasing the transformations our patients have achieved through smile makeovers and other treatments. These visual examples can provide insights into potential results.
How can I manage the cost of smile makeover treatments at your Marbella Dental Clinic?
We understand cost considerations. Our clinic offers various financing options and payment plans to make your smile makeover more affordable. Our team can discuss these options during your consultation.
Will my dental insurance cover any part of the smile makeover procedure?
Dental insurance typically covers medically necessary procedures rather than elective cosmetic treatments like smile makeovers. However, we can assist you in exploring potential insurance coverage or financing solutions.
Can I combine different cosmetic procedures within a single plan to enhance my smile?
Absolutely, we often combine various cosmetic procedures to create a comprehensive plan that addresses all your aesthetic concerns in one coordinated treatment.
How do I maintain the results of my enhancement once it's completed?
Maintaining your improved smile, including those from smile makeovers, involves regular dental check-ups, good oral hygiene practices, and lifestyle choices. Our team will provide guidance on maintaining your results.
Are there any potential risks or side effects associated with cosmetic dental treatments?
While treatments are generally safe, there may be minor, temporary side effects like sensitivity. We'll discuss potential risks and ensure you're well-informed before proceeding.
How can I schedule a consultation at your Marbella Dental Clinic for smile enhancement?
Scheduling a consultation is easy. You can reach out to our friendly staff via phone or email, and we'll be delighted to help you book an appointment to discuss your goals.
Can you provide references from patients who have undergone enhancements at your clinic?
Yes, we can provide references from satisfied patients who have experienced enhancements, including smile makeovers, at our clinic. Hearing about their experiences firsthand can offer valuable insights into the quality of our cosmetic dentistry services.
Book a Smile Makeover Consult Appointment
Price range
We have different types of veneers, and different processes depending on patient expectation, so our price range per veneer ranges from 695€-1495€.
*Final Veneer Cost Only
Additionally, you would need a temporary veneer (from 89€/tooth) & a wax up (from 295€ per arch).